Fall 2020 Classes
You're invited! Classes are designed for both the seasoned and new believer, studying God's Word together, building friendships, praying for and encouraging one another.

When you register, you'll have the opportunity to make an additional ministry donation that can apply to things like childcare scholarships for moms, technology improvements or curriculum enhancements.
---

Praying the Psalms
Sue Southern
Tuesdays* | 6:30pm | Sep. 8-Nov. 3 | Lamb Chapel | $5
Learn to use the lyrical, powerful words of the Psalms to seek God's help in navigating life. Praying has become an adventure for Sue Southern as she has learned to pray with simplicity, passion, and expectation by using the words of scripture as her guide. Sue will walk us through 8 Psalms, mining the truth and power they've revealed in her life—and showing you timeless principles you can use to pray through and apply the Psalms in your life, too. This class is offered both in person and online. The in person class has reached capacity at this time. If you are interested in joining a waiting list, please email In the meantime, we encourage you to sign up for our online study, which will be posted to our YouTube channel later each week.
---

The Kingdom
Janet Seegren

Wednesdays* | 9am and 6:30pm| Sep. 9-Nov. 4 | Lamb Chapel | $5
TV commercials tell us to "live like a king." But what does it mean to serve a King? What does life in God's Kingdom look like? Whatever it was or is, the Kingdom of Heaven was important to Jesus. How do we know? Matthew records Jesus speaking about the Kingdom nearly 50 times! Janet Seegren unpacks what scripture teaches about the Kingdom—as well as the principles that define life in it. Come ready to be challenged and changed in this original, 8-week study. This class is offered both in person and online. Click the appropriate registration button below.

Morning (On Campus) Childcare (AM)
Evening (On Campus)
Online


* The Psalms and Kingdom classes will be available online later each week on YouTube. If you sign up for an online option (to view at home at your convenience), and are interested in leading small group discussion via Zoom, please email .


---

Morning Rays
Carol Shippy
Wednesdays | 6am | Sep.-April | Lamb Chapel | No cost
Do you ever wonder if your life has influence? Jesus has already told you it does! In fact, Jesus told his followers they would be his witnesses "to the ends of the earth." Carol Shippy will lead us to discover what this looks like by taking us along on Paul's missionary journeys and learning from the letters he wrote to churches he established. We will grow as faithful witnesses of our Lord Jesus Christ so that we, too, can go to the ends of the earth in places we have influence.

This class is also available via Zoom at 7am, Thursdays. If you are interested, please email to receive the weekly zoom link.
---
Mom2Mom
Wednesdays | 9am | Sep.9-Nov. 4
Mom2Mom will join in the 9am Kingdom class. Please note there is a registration fee for childcare this fall. Use the registration links above to register yourself and your child(ren).
---
FAQs
Q: Are face masks required for on-campus Bible studies?
A: As we back into on-campus activities, we are asking everyone to wear face masks as well as maintain social distancing at this time. Thanks for cooperating!
Q: Will online classes be live-streamed?
A: No, they will be recorded and posted each week as soon as possible. We will not "premier" them at a set time, but if you subscribe to our Grace Women YouTube channel, you'll be notified each time a new
video is uploaded.

Q: Do I need to register and pay if I'm watching a class online?
A: Every class comes with a binder, a syllabus, and pre-printed materials, so it is recommended that you register! Plus, everyone who registers will receive that week's teaching outline via an email sent out on Mondays.

Q: Can I take a class both on-campus and online, depending on what my week looks like?
A: We love the flexibility that technology offers! But if you sign up for an on-campus class, please know that we're choosing the right room size and setup based on registration numbers. So, while there's
definitely some flexibility, please stick with your original selection as much as possible. Of course if you have any cold or flu-like symptoms, please stay home and watch the teaching segment online.

Q: Is childcare offered?
A: Childcare is available at the 9am time on Wednesdays. This semester, there is a fee for this service of $40 for the first child and $10 for each additional child. The fee is non-refundable and covers the whole semester. Busy Bees childcare agency will be on campus providing this service.

Q: What will seating be like?
A: We will maintain social distancing guidelines of 6 feet apart for on-campus studies. Depending on the room, we may or may not have tables, so plan to bring your binder or a clipboard.

Q: Will there be table assignments and table leaders?
A: No, depending on the room, we might not even have tables! Seating will be open and discussion groups will be three to four women to allow for social distancing.

Q: Will snacks and drinks be available?
A: Women's Ministries will provide bottled waters, but due to safety precautions around COVID-19, there will be no food or coffee provided.

Q: Will printed materials be available?
A: Please plan to bring your own Bible, note-taking items, binder (which Women's Ministries will provide for pick up the first night of study or in the Connection Center for online attenders), and pen or pencil.
---

Let's be social! Follow the Women of Grace on YouTube, Facebook and Instagram:
---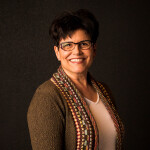 Laurie Davies
Women's Ministry Director