Update on Coronavirus (COVID-19)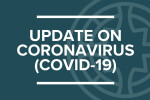 Hello Grace Family,
We are actively monitoring the developing Coronavirus (COVID-19) situation here locally, and around the world. While Arizona has very few reported cases, we want to assure you that we are taking precautions to be responsible and wise.
As of today, we plan to continue gathering for our regularly scheduled services on Sunday. Due to the fluid nature of this situation, we will update you via email, social media, and our website of any schedule changes.
Of course, if you or a member of your family becomes ill or are starting to show symptoms of illness, please stay home. If you do choose to stay home, we'll be posting the message by 2pm on Sunday on the Grace app and our website.
During this time, we are taking the following steps:
We will sanitize highly touched surfaces before and after every service, and make additional hand-sanitizer stations available.

Our staff and volunteer teams will wash their hands frequently and stay home if they are sick.

We are suspending all food, snack, and beverage service on campus. This includes Adult Sunday classes and GraceKids, as well as midweek activities.

During our services, we will not be taking communion, or passing an offering bag. Those wishing to give are encouraged do so online or through the Grace app, but will also be able to give as they leave the service.

We encourage everyone to please refrain from shaking hands.
Above all, let's remember that we are people of faith, not fear. In fact, this is the Church's time to shine. Psalm 34:4-5 reminds us that those who look to the Lord are radiant. Let's stand strong together, and use this opportunity to be the hands and feet of Jesus through our prayers and our care for others.
Thank you,
Pastor Des