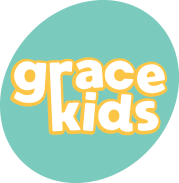 The heart of the Grace Kids is to partner with families to foster the spiritual flourishing of kids of all ages. Children, birth through 5th grade, are invited to participate in various styles of Biblical learning through hands-on experiences and discovery.
---
Sunday Mornings
8:30 & 11:00 services | Children's Program
9:45 Sunday Class Hour | Breakfast Club
---
On Sundays, we desire that you as the parent or guardian are comfortable and confident placing you children in our care. Newborn children to 23 months will be in childcare and 2 years old through 5th grade engage in a Children's Program with interactive Bible teaching, crafts and much more!
If you are new with us, please proceed to the Grace Kids's Check-In Center to register. There you will be greeted by our Grace Kids team, check-in and answer any questions you may have. Our two-piece ticket system prints a name label for your child and a "claim" ticket with matching numbers for you, this is designed to ensure your child's safe return to you.
Every volunteer within Grace Kids completes an extensive application and background check process.
IMPORTANT REMINDERS:
December 17 | Elementary Christmas Party!!! There will be NO Elementary program at the 8:30 service. Instead, all Elementary children will gather at 11:00 for their Christmas party. Nursery, Preschool and Breakfast Club will proceed as usual, with special Christmas celebrations in each individual room.
December 24 & 31 | There will be NO Grace Kids programs either Sunday. Enjoy the holidays!
Events
---
Child Dedication Class
Sunday, November 26, 2017, 9:45 AM - 10:45 AM
Location: Room E-108, 1200 E Southern Ave, Tempe, AZ US 85282
Baby Dedication is a special family celebration at Grace. We believe that God has given parents the responsibility of being the primary spiritual nurturers of their children, and we desire to support you in your parenting journey!!
Download the event to your calendar
---
Awana Parent Night
Wednesday, December 13, 2017, 6:30 PM - 8:30 PM
Location: Davidson Center, 1200 E Southern Ave, Tempe, AZ US 85282
Coordinator: Christy Andrewson
Come see what your children have accomplished at Awana this year!