"Planted in the house of the Lord, they will flourish..."
Psalms 92:13
---
Your kids will have a blast at GraceKids! During our Worship Services at the 8:30am and 11:00am hours, we offer full programming for birth through 5th Grade. During the 9:45am class hour, we provide the kids with fun, engaging, age-specific environments where they can play and enjoy snacks and games.
First Time?
Your first stop will be the check in center. In order to serve you and your child in the best possible way, we will chat and get to know you! We'll ask about allergies, contact information and explain pick up and drop off procedures.
After, you and your child will get a sticker with a matching security code. This is where your phone number will appear if we need to reach you at any point (always double check it is current) and how you will collect your child after the service.
Questions?
No problem! We will have GraceKids volunteers around every Sunday to help, or you can email Sadie Jackson at: . We can't wait to see you!

---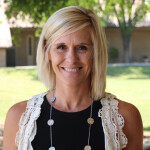 Mel Wadsworth
Children's Ministry Director