Sunday Set-List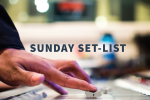 At Grace, we believe that one of the ways we as God's people worship Him is through the singing of songs that serve to direct our hearts and minds towards Him. We want to do everything we can to help make the musical aspect of our Worship Services engaging for those who attend. One way we do that is by letting you see the songs we will be leading this coming Sunday. It is our hope that you will listen to them throughout the week, learn them, and come ready to sing passionately in praise to our Creator when we gather together.
Want to hear one of songs from last Sunday again? Scroll to the bottom of this post to see playlists from the previous week too!
These playlists will be updated every Monday.
8:30am Service - This Sunday:
11:00am Service - This Sunday:
8:30am Service - Last Sunday:
11:00am Service - Last Sunday:
To view and follow these and other playlists, check out our Spotify profile here.