Christmas Eve At Grace 2017 - Watch The Full Service!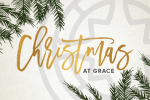 We had such a great evening together as a church family for our Christmas Eve services this year! Thank you to everyone who took time to come and celebrate with us! As usual, you can view the sermon audio and video here on our website and through the app. For special occasions such as this, we also like to make the video of the full service available as well! This makes it easy to share with friends and family who were not able to attend, or perhaps you were out of town and would like to see what the whole evening looked like!
We had three Christmas Eve services this year. Our 3:00pm and 5:00pm services were identical and we have posted the 5:00pm recording. We also held an 11:00pm service which has been posted as well.
Below, you will find both of the service options available for you to watch in their entirety. Enjoy!
---
---