A Great God, A Generous Revolution, And You!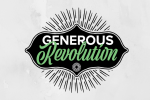 Are you aware of some of the things that God has been doing in and through Grace Community Church this year? Are you aware of the lives that are being impacted and changed through the Gospel of Jesus being lived out through the ministries and people of Grace?
LOOK WHAT GOD HAS DONE
Just this year alone, we've seen:
33 new followers of Jesus

62 Baptisms at Grace

34 Baptisms through Global Outreach

7 short-term mission teams

400+ volunteers for VBS and Fall Festival

5,000 people on our campus for Fall Festival

40+ new children in our Sunday Morning Program

50+ new students in our Student Ministry Program
And that is just the beginning. We have seen incredible things being done in and through ministries like Gracie's Thrift Store, IHELP, People Help, College Ministry, Car Care Clinic, Grace Lodge, and Prayer Ministry! The list could just keep going and going!
LOOK WHAT GOD IS DOING
This is all important to know, because as we enter the season of year-end giving, we want everyone to be aware of something really important…
We are witnessing a Generous Revolution!
God is doing incredible things through the generosity of His people here at Grace! All of those incredible things listed above were made possible through the generous gifts and regular giving of people just like you!
We are confident that God is calling us to continue our mission to live out the Great Commission and Great Commandment throughout Tempe, the East Valley and all over the world! We also believe that this kind of a revolution is spurred on through the prayers and generosity of God's people.
WHAT THAT MEANS FOR YOU
We want you to be a part of this Generous Revolution that is already in motion! Our hope is to see this culture and revolution of generosity continue to grow. This generosity will create a revolution for our neighbors, for our world and for life change.
That means that we need people just like you to contribute to our Year-End Giving goal of $110,000. We want you to know the joy of being a part of what God is doing through His people. A strong response to this goal allows us to continue moving forward in what God has called this church to both locally and around the world.
Maybe you have never given to the church – now is a perfect and easy time to start!
Maybe you don't think that your gift will make a difference – every gift contributes to a massive impact!
Maybe you aren't sure how to give – we have 4 very easy ways for people to give.
WAYS TO GIVE
CASH – it can be given in our weekly offering or dropped off in one of our giving envelopes. (any envelope will do)

CHECK – It can be made payable to "Grace Community Church" and mailed to 1200 E Southern Ave., Tempe, AZ 85282.

ONLINE – You can give quickly and securely online through our website at www.graceaz.com/give or through the Grace Community Church App (available for both iOS and Android)

ASSET-BASED GIVING – A donation of items such as stocks, mutual funds, and corporate donations can be made through our brokerage account. The brokerage account information can be found in our brochures located in the Connection Center.
All of these are ways that you can give between now and Sunday, December 31. If they are received or postmarked prior to December 31 these gifts are also tax-deductible for the 2017 tax year.
And don't forget, if you do not currently give on a consistent or regular basis, an easy way to start is by simply checking the box through online giving to set up a reoccurring gift.
So take advantage of this incredible opportunity and join the Generous Revolution for our neighbors, for our world and for life change!